My right arm is out of commission for two weeks thanks to a ski accident so I am bored and frustrated this week — I'm not supposed to write, type, draw, quilt, or even pick up a cup of coffee. I've spend the week reading books and surfing the web using just my left hand.
I was pretty sure I wasn't going to participate in Poetry Friday this week until I read this XKCD comic, and then I knew I had to share it: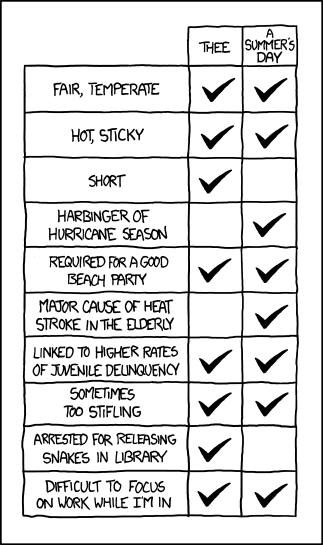 Head over to XKCD to see this and other geeky humor (that is occasionally not-safe-for-work).
I think, after reading this, that I would prefer NOT to be compared to a summer's day.
As a bonus, Incidental Comics explores where a young man's fancies turn in spring.
And that's about as much as I can type with one hand…
Don't forget to visit the rest of Poetry Friday hosted by Myra at Gathering Books.